Introducing the NEW Home Staging
Savings Calculator™
Now Available as an iPhone App!
Figure out how much you may save, or spend, by staging or not staging.
Click to download Home Staging Savings Calculator HTML Code and use on your website
Click the icon below to us the Staging Training Calculator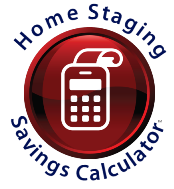 The Consumer's Guide to Real Estate Staging
Homeowners Learn:
The true definition of staging
The benefits of staging and staging statistics
How to get your home sold quickly, with less stress and possibly for more money
How to find the right home stager by asking critical question
---
---
View the Consumer's Guide to Real Estate Staging™ as an e-Book.
Sorry not available on MACs at this time.
To view the EPW file, you require the installation of the small file size EPW Reader. To get the EPP Reader, click the "Get EPP Reader" button.